Former AU women's basketball coach takes over at D-I Michigan State
Robyn Fralick joins MSU as head coach
After years of success at Bowling Green State University, women's basketball Head Coach Robyn Fralick's ship has sailed with the program.
As of Friday, March 31, it has been confirmed that Fralick has taken the head coach opening at Michigan State University.
"I would like to thank the Bowling Green community for wrapping their arms around my family and the BGSU women's basketball squad for giving their best, every day," Fralick said.
In the 2022-2023 season, she led the Bowling Green Falcons to an impressive 31-7 record which matched the University and Mid-American Conference (MAC) record for most wins in a single season. The team also made a run in the Women's National Invitation Tournament (WNIT) before being eliminated in the Fab 4.
Throughout her time with the team, she amassed an 88-73 overall record.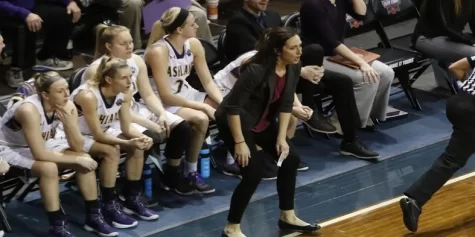 Before joining the Falcons in the 2018-2019 season, she spent three seasons as the head coach with Division II Ashland University where she wreaked havoc on the country. In those seasons, she accumulated an overall record of 104-3, with 73 of those wins coming in a row. That winning streak is a D-II record, still strong today.
During her time she was able to appear in the national championship, winning one and losing one as a head coach.
She now looks to build upon the 16-14 Spartans record this past season that placed them ninth in the Big Ten conference.
"My family and I are so grateful for this new journey," said Fralick in her introduction to MSU. "It is an honor to return home to East Lansing to join the Spartan community.