Welcome Kristina Clady, as new Safe Haven Campus Advocate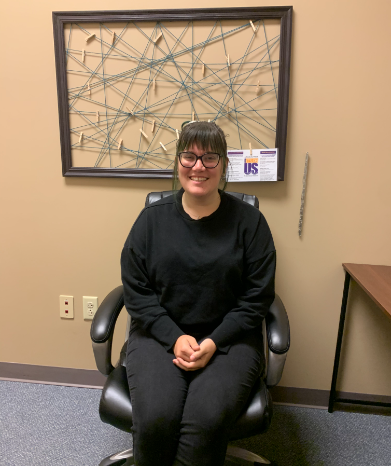 Safe Haven at Ashland University has named Kristina Clady as the new campus advocate.
Clady graduated Ohio State University with a degree in English, however she dabbled more in politics and chose advocacy as a natural extension of her work in the past. She began working at Safe Haven at the end of June and has been on campus since the fall 2022 semester began.
According to Safe Haven website, the mission statement of the organization is, "To provide prevention, intervention, support, and advocacy, with emphasis on empowerment, to victims of domestic violence, sexual assault, intimate partner violence and stalking in Ashland County 24 hours a day, 365 days a year."
"The biggest thing I'm here for is Title IX advocacy and accompaniment," Clady said. "Anyone going through the Title IX Process. Essentially I am just a confidential resource, I don't work for the school, I am just here to represent and support the students through the process."
As a resource for students, Clady also has outreach and prevention aspects of her job, such as attending Resident Assistant training and meeting with athletic teams for better prevention advocacy.
"One of my biggest goals for this year is for people to get to know me, to feel comfortable with me, and for people to come to me before they go through the Title IX process or outside of that," she said. "I've been to a lot of different meetings, met with a lot of different department heads, just because I want people to feel safe and confident, coming to me before anything happens. So that they don't feel in crisis if something does happen."
To begin her journey at AU, Clady has planned several events to take place during the semester, starting with a campus-wide rubber duck hunt to win prizes.
Clady elaborated, "I've hidden them around campus, and then I have gift cards, Safe Haven goodies, Dunkin' Donuts donated coffee. It's really just a way for people to get to know me, and what I can do for them."
In October, there will be the silent witness project to remember the ten known victims of domestic violence in Ashland County. The silhouettes can be seen around campus along with a placard of their names and stories.
"I really want students to feel comfortable talking to me about literally anything," Clady said. "Part of my job is knowing where to go for what problems, but if I can be someone that they can feel comfortable talking to who can help them find what they need, I feel like I've done my job."