AU grad co-authors Kyrgyz-to-English dictionary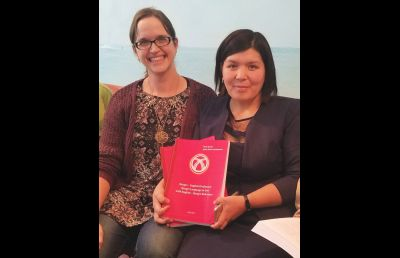 AU alumna Betsy Becker continues to learn after graduation with the co-authoring a Kyrgyz-to-English dictionary.
Becker, who graduated in 2004, began with Spanish classes at AU. Although Becker took many classes, she did not have the intention of being a Spanish teacher, but rather to live overseas.
Becker's first venture out of the country was a month in Mexico through AU's study abroad program. Becker came to the conclusion that Europe was not for her after she spent three months in Spain the summer after her sophomore year.
Following graduation, Becker had to decide if she would start her English teaching career in Buenos Aires, Argentina or in a small town in Kyrgyzstan.
Becker decided to travel to the former Soviet republic of Kyrgyzstan, a mountainous, landlocked country of 6 million. As of today, Becker has lived and worked for 15 years within Kyrgyzstan.
Russian often is spoken in Kyrgyzstan's cities, however Kyrgyz, a Turkish language, is most common in the towns, villages and rural areas.
Eventually, Becker progressed from teacher to student as her master's area of study was Kyrgyz philology and intercultural studies. Becker's thesis was, "A Comparative Analysis of the English- Kyrgyz Verb Categories."
"I spent a whole week in the library, just learning helping verbs," Becker said in the press release. "And I thought, 'how many times did I use the wrong helping verb and totally insulted someone'."
Becker and Jyldyz Sherova Baimatovna worked on a Kyrgyz-to-English dictionary for four years, which listed the words and their definitions and incorporated the circumstances in which the words would be correctly used.
Dr. Barbara C. Schmidt-Rinehart, Spanish professor at AU, believes that Becker's accomplishment is both personal and a testament to the Spanish program at AU.
"With Betsy, this particular accomplishment with this particular dictionary is a very high-level linguistic endeavor", Schmidt-Rinehart said. "Our students seem to just go out and fly because they have the foundation from the program here at AU."
Sam Coon, a junior Spanish major, finds the success of other AU graduates such as Becker, inspirational.
"It's so cool that they're putting their studies to use and committing the effort to create something like a dictionary", Coon said. "It is inspiring to me because I also hope to go overseas after graduation, but more in the vein of being an international business representative, which would be a combination of both of my majors."
For the time being, Becker is back in the United States working at Indiana University's Center for Languages of the Central Asian Region where she is helping present language and cultural resources to add to a Kyrgyz textbook.