Swim and dive teams preparing for postseason action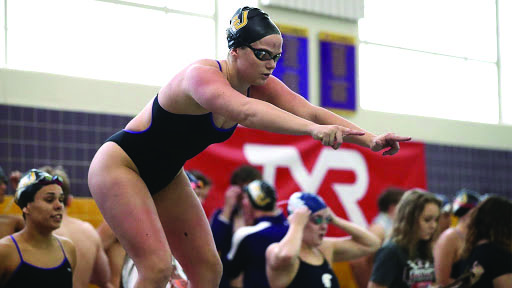 The Ashland University swimming and diving teams are heading into postseason as they prepare for conference and nationals.
The women's team, boasting a recent win under its belt against Tiffin University on Saturday, Jan. 25, is fully prepared to enter Great Lakes Intercollegiate Athletics Conference play, according to head coach Kyle Walthal.
"Both our teams had a great regular season," Walthall said. "I know that our record may not show that exactly, but the thing that we focus on the most is improvement and GLIAC play. When it came to our dual meets we were focusing on tactics, racing strategies and different methods of warming up."
At the Oberlin Invitational in late November, the men's and women's teams both secured a second-place finish with a combined 46 personal records.
"We've had a lot of great improvements over the year. As far as stand-outs go, it's the entire squad. They have all stepped it up huge," Walthall said about his team. "Our short sprinters, like Jess, have made enormous strides this year. I'm really looking forward to seeing her swim."
Junior swimmer Jessica Zaper typically swims the 50 freestyle, 100 freestyle and 100 breaststroke, but will be swimming the 200 breaststroke at conference this year.
"This season Kyle had us find key words that he would know for us when we are training and for me, the only thing I could think about was nationals," Zaper said. "At every practice the one thing in my head is nationals. I always ask myself: 'How bad do you want to get there?'"
The team now has about two weeks to rest in preparation for the GLIAC Championships.
"We are in the middle of our final preparation cycle, so we're going to be focusing on the little things in each event and not making any drastic changes," Walthall said. "We are focusing on resting up, because the team is a little beaten up after winter training."
For the freshmen swimmers and divers, this is a whole new experience. The young team consists of mostly freshmen and sophomores, containing only two seniors (Aaron Bradfield and Peter Reventlow) and one junior (Kyle Feuerstine).
"I'm a freshman so I don't know much about the swim team's past, but if you look at the stats from the past two or three years, we are improving," freshman Amar Sapcanin said. "Everyone is improving their times, everyone is getting better, everyone is motivated, everyone is ready to race and cannot wait to race. I think that this is a new era for Ashland swim."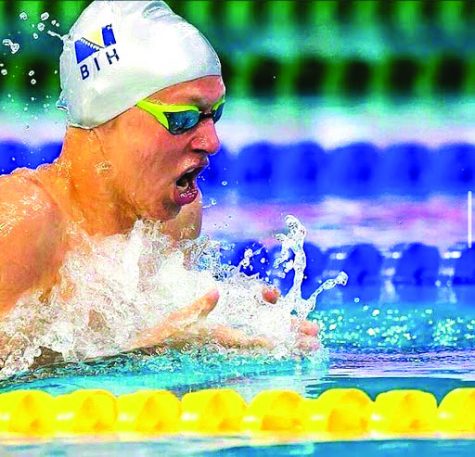 Sapcanin traveled from Bosnia and Herzegovina to be part of the AU swimming and diving team.
"If someone were to ask me my favorite thing about Ashland, it's swimming. That's why I'm here because of the swim team. I went here not knowing anyone and I can now call them my family. Swimming here makes me feel like this is now my home," Sapcanin said.
Sapcanin's events include the 200 medley, 100 fly, 100 breaststroke and 200 breaststroke, his main event.
"At mid-season I just missed the B cut, so I'm really close to nationals and conference. My goal is to go to nationals and then go to finals," Sapcanin said.
The AU swim and dive team hit its peak in 2011 with the men's team finishing eleventh in the nation and the women's team finishing fifth. The teams have not been able to compete at the same level since then. Walthall is expecting to climb out of their rut this season.
"Ashland hasn't sent a group to nationals in four years, if I remember correctly, but we are looking to send a good group this year. I think that with the training we've put in and the mental state of the team that we've got a great shot," Walthall said.
After coming off two years of injuries, Zaper is now prepared to swim at conference.
"The thing I'm looking forward to the most is just going out there and being able to compete," Zaper said. "I'm someone who focuses on times and I know what the standards are for nationals. I just have such a competitive nature and I love being able to get up, race and compete."
The Eagle women focus on community and encouragement to lift each other up throughout the entire season.
"It's hard with our team being so small, so sometimes it's hard for us to compete, but we have such solid people on the women's team that can go out there and do well and win races and show up for the girls," Zaper said. "We are always really supportive and encouraging of each other and we all know what our goals are for the end of the season."
The swimmers have been putting in double practices and training every week day in hopes of improving before the GLIAC Championships. The swimmers and divers practice for multiple hours a day, training for the upcoming meets.
"People are going to be shocked at what Ashland is able to do at conference," Zaper said. "We've been the underdog for these past few years, but I feel like this year people are going to finally start noticing who Ashland University is."
At the end of it all, the one thing the Eagles cannot lose is their team spirit.
"We've been told from many coaches that it's our spirit that we bring in the pool," Zaper said. "We walk into a pool deck and it's like we own it. We have the best cheers and we're screaming and showing our love for every single person, so I'm really excited to see how our team comes together during that week and see how everyone's going to race. A lot of our best times will come from conference."
The GLIAC Championships will begin on Feb. 19 at Saginaw Valley State University where the Eagles will be competing.