AU baseball has unforgettable 2019 season
It is no secret Ashland University's baseball team had a successful season this past spring.
From matching the school record of 48 wins (set in 2002) overall during the season and breaking the school record for strikeouts, to ultimately making it to the World Series, the AU baseball team had a season for the books.
"Our guys just never quit, always believed we had a chance, competed hard and battled to the end, it was just a great mental approach" head baseball coach John Schaly said.
Schaly was named for the fifth time Regional Coach of the Year by the American Baseball Coach Association for the 2019 season.
AU won the majority of their most crucial games by making comebacks final innings of said games. This trend began in the 2018 season when the team had 13 with the wins last at bat.
The most substantial comeback happened against Bellarmine in the regional tournament where AU was trailing 7-0. With the help of senior pitcher Josh Smith who threw almost seven innings, the Eagles came back to win the game with a final score of 8-7.
AU then went on to host the 2019 Super Regional Championship, and later advance to the College World Series.
After winning 17 consecutive games in a row, the Eagles broke the previous school record of 13 set in 2007.
"Honestly it just came down to how bad as a team we want to win every day and play as best as we can for each other. Everyone's happy when we're playing well and that keeps the momentum and positive energy constant.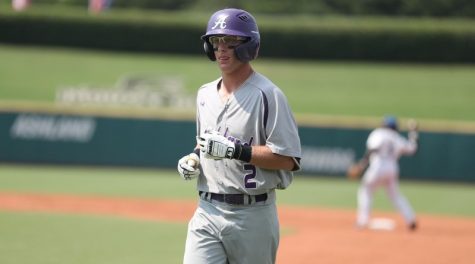 According to AU Director of Athletic Communications, Brendan Bittner, the "well balanced" nature of the team contributed most to their great success on the field.
Schaly and Efrid both described how important it was that everyone not only worked on improving as an individual, but also as a team.
"The mindset as a team was to play for each other… I think the thing that made this team so special was the amount of unity and brotherhood we had," Efrid said.
Amongst the multiple broken records and titles achieved, the Eagles concluded a season for the books.
The AU baseball team lost seven seniors after the 2019 season including the likes of Chris Slavik, who was a First Team All-American. However, Schaly is looking forward to the upcoming season as the majority of the fairly young team's starting lineup will return.
"I think the moment when we realized how good of a season we were having sunk in was right after we won the super regional at home with such an amazing crowd supporting us," Efrid said. "There is only one word that could describe this past season, and that's unforgettable," Efrid said.