Nick Johnson Profile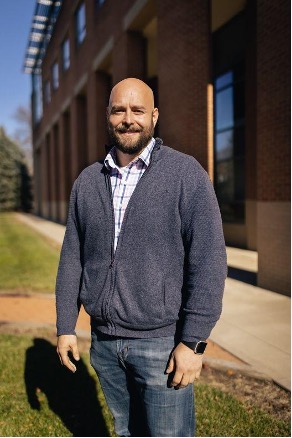 Dr. Nick Johnson has been at Ashland University since the fall of 2015 and has been here for eight years. He holds a place in the Chemistry, Geology and Physics departments. Currently, he is teaching Advanced Inorganic Chemistry and General Chemistry II. He is also the director of the Dean's scholarship program for the natural sciences.
Johnson received his degree from Skidmore College in 2007 with a BA in Biochemistry and received a Ph.D. from the University of Akron, focusing on Inorganic Chemistry, in 2015. He was in graduate school for five years, from 2010 to 2015 before starting at Ashland.
Johnson did not always want to be a professor or hold a role in education.
"My decision to become a professor did not happen until later in life. When I was young and throughout my high school and collegiate career I was determined to become a pediatrician," Johnson said. "After I graduated college, I was enrolled in a Master of Public Health program and was preparing to enter medical school the following year. It was during that program that I felt that maybe the medical field was not for me."
During the second semester of his masters, he decided to take time off school, and work for the Division of Recreation for the city of Cleveland managing a hockey rink. After several years, Johnson decided he missed being in school and decided to go back to college for graduate school, this is when he decided to pursue a career in academia
"I love teaching General Chemistry because I am able to interact with first-year students and get to see the love for chemistry and science grow within them. I get to some amazing 'light bulb' moments from students and get to see them develop a passion for learning. I also love teaching Advanced Inorganic Chemistry. In this senior-level course, I get to work with upper-level science majors and delve deep into the chemistry of transition metals and main group elements and show students a side of chemistry they may never have thought about or seen before," Johnson explained.
His biggest role model has been Dr. Claire Tessier, his Ph.D. advisor at the University of Akron.
"[Tessier] instilled in me a love for teaching and a love for research," Johnson said. "She showed me daily that the two fields are not mutually exclusive and that I can pursue excellence in both. She was a constant source of comfort and inspiration and she continues to be the person that I look to for advice and guidance."
He was the 2020 recipient of the Taylor Excellence in Teaching Award. This award is given to one faculty member annually to recognize excellence in teaching. He has also received several other awards and recognition for presentations at academic conferences and in 2020, his manuscript "Recent Developments in the Medicinal Applications of Silver-NHC Complexes and Imidazolium Salts" was recognized as the top organometallic article in the journal Molecules after being cited over 150 times since its publication in 2017.
Johnson has always hoped that he can help students find a direction and a path, and help students find enthusiasm and love for learning and for science.
Junior Madison Fish has been a student in Johnson's classroom for four semesters now. They are currently majoring in biology and minoring in religion and chemistry.
Fish has taken General Chemistry with Johnson for two semesters and last semester they started research under him. Currently, Fish has Advanced Inorganic Chemistry and research with Johnson.
"I didn't have the best high school education, so coming into college was a challenging adjustment, but I remember going to Dr. J for help throughout my freshman year, and he would always give me encouragement," Fish said. "He also has allowed me to join his research group, and we are working to improve drug delivery systems. I am more than grateful for this opportunity. It has allowed me to think more critically and analytically, and I know those things will help me in PA school and as a PA. On top of these things, he has also helped me search more deeply into the 'why' or how things work. He wants his students to understand rather than just memorize, and that has made a huge impact on me."
Johnson isn't working toward any new awards at this time. Currently he is focused on developing inorganic drug delivery systems for anticancer drugs. In hopes that this research will soon be published.
Leave a Comment