​​Campus bakery rented by Ashland University alumna
Vines bakery is open Wednesdays through Fridays from 8 a.m. to 4 p.m. and Saturdays from 8 a.m. to 2 p.m.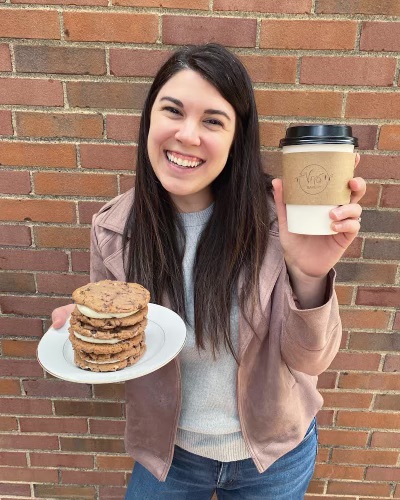 Pittsburgh native Juliana Williams decided to stick around Ashland after graduating from Ashland University in 2016, starting her own business selling baked goods at farmers' markets.
In February 2018, she opened Vines Bakery at 530 College Avenue.
"I've always loved the location of our little brick bakery. It was vacant the whole time I was a student at AU, and I always dreamt about turning it into a bakery or coffee shop accessible to college students and the whole Ashland community," Williams said.
One of the unique things about Vines Bakery is the location being on Ashland University's campus from a property standpoint. It is easily accessible to students, faculty, and staff of the University.
 "We also have a lot of community members within walking distance who love to stop by on bike rides, with their dogs, or even pulled on sleds during the winter! That plays a big part in our unique niche in town and helps maintain our business," she said.
AU sophomore Anna Bielawski spends multiple hours at the bakery."It is super accessible, less than a three-minute walk from my residence hall. This proves to be pretty dangerous for both my sugar intake and my bank account," she said…"The employees are so kind, and the environment is warm and inviting. When I want to get work done outside of my room, Vines is a no-brainer." 
With a combination of college customers and locals that frequently visit Vines Bakery, its most famous bakery item has always been their scones. The flavors of scones change weekly.
"People get excited about our seasonal coffee and drink options, but baked goods still account for a larger percentage of our sales," Williams said.
Vines Bakery also runs a program called "Share a Scone," which was started shortly after the storefront was opened. 
The "Share a Scone" program means anyone can come in and pay in advance for a scone card to put on the wall. Some scone cards are written for specific people, while others have messages like "for an AU student," "someone over 65", or "someone who needs to know it will be alright."
 "A customer can then enter the bakery, look at the wall, pull off a card that pertains to them, and use it to get a free scone," Williams said.
"I am passionate about hospitality, sharing stories, and connecting with the community. Our bakery is much more than selling cookies.  I've always hoped that Vines would be a comfortable place for people to gather and connect with one another," Williams said. 
Bielawski said, "The Give a Scone program is a wonderful way to brighten friends' days and to show appreciation for various people or groups in Ashland."
"I love reading all of the dedicated scones while standing in line and seeing the small but meaningful acts of love and friendship that accompany them," she said.
Ashland University has owned the Vines building since 2018, purchasing it from the Brethren National Church as part of a property acquisition that included the now Military and Veterans Rescue Center and the former Rise Yoga Studio building. The  total price was $600,000. These properties are at the University's "front door" and have high visibility and strategic value, according to  Rick Ewing,  vice president of Operations and planning. 
The previous business in this building before Vines Bakery was called Carnival Corner, which was a small diner serving fair foods and burgers. Prior to that it had been a coffee shop, run by several different operators.